A surveillance camera, which may also be referred to as CCTV (Closed Circuit Television), provides that sense of comfort by giving the appearance that there is constantly another set of eyes watching over the area. In recent years, there has been an increase in the demand for CCTV (Closed Circuit Television). CCTV installation is not just a security element that is owned by a company, but it is also a sought-after requirement inside local families, whatever the size and kind of home. This demand has been on the rise.
CCTV and the modern world
Today's modern closed-circuit television or CCTV installation systems demand continuous supervision, therefore they need to be more than simply a collection of cameras. The primary purpose of these systems is to detect unusual behavior, security flaws, or events and enable swift responses to address these issues. Webcam event management software facilitates this by providing access to the most relevant data at any given moment. Integrating video analytics into a surveillance setup is critical for picking out anomalies and alerting the right people to fix them as they arise. Though CCTV installation in and of itself has its advantages, the resulting flood of video has to be filtered and structured in a manner that is simply consumable and permits informed and efficient decision-making.
CCTV installation is essential to any security plan since it allows for constant surveillance and deters criminal activity. When combined with more conventional security measures like access control, remote management software, and emergency communication networks, however, its capabilities really shine. The safety of a building is enhanced when its many security components cooperate and share information without a hitch. When an intruder tries to enter a restricted area, for instance, access control systems may alert facility management and trigger nearby CCTV cameras so they can survey the situation from a safe distance. As we go toward smarter, more connected buildings, it is important to remember that CCTV installation may be integrated with other surveillance systems.
An overview of CCTV installation
In this specific article, we tried to think from a customer's need perspective. we are aware that each of our customers has specific requirements, and we do our best to accommodate them. We are able to determine the requirements of each individual customer, regardless of whether the property in question is residential or commercial. The following are some of the prerequisites, however, the list is not exhaustive:
• Keeping an eye on the personnel and the cash registers at your store
• Ensuring that your property and the people you care about are safeguarded at all times
• Monitoring the flow of traffic in a region with an especially high danger level
• Putting a Stop to Shoplifting
• Monitoring vandalism
• Keeping a watchful eye out for uninvited guests who may be roaming about your property. Up point of fact, putting in a dependable CCTV camera is a very practical thing to do. This is so due to the fact that a security kit provides you with the preventive advantage that you need in terms of safety. It doesn't matter whether you own a company or just want to make sure that your loved ones are protected if you don't have this kind of gear. Having said that, it is not only vital to install a CCTV camera, but you also need to ensure that it is a device that is both trustworthy and of top-quality. This is because integrating a CCTV installation is just one part of the equation. Additionally, it is necessary to do routine tests and maintenance on it in order to keep it in good condition. Hikvision is pleased to have Alberta as its official local agent, and Alberta is glad to be able to provide CCTV and video surveillance solutions.
CCTV installation and home security
If the safety of your home is your first concern, install surveillance cameras at the entrances to your property. Because the vast majority of thieves try to enter homes by either the front door or a side entry, these are the ideal locations to install surveillance cameras in order to prevent or apprehend prospective intruders. Position the cameras such that they are high above the doors and looking outwards so that you can see the faces of anybody who may try to break in. If you only have one camera, your best chance is to install it at the main entrance of your home, since around 34% of thieves try to enter houses via the front door. If you have more than one camera, consider placing them strategically throughout your home.
To keep an eye on your vehicle, install surveillance cameras on the ceiling of the garage or driveway. Whether you store your vehicle in the garage or the driveway, position the camera so that it faces your vehicle. If you keep a lot of valuable equipment or items in your garage, make sure to place a camera inside the garage even if you don't keep your car in it. This will cover another potential entrance to the inside of your house, giving you even greater security. If you don't keep your car in the garage, placing a camera in the garage will cover another potential entrance to the inside of your house.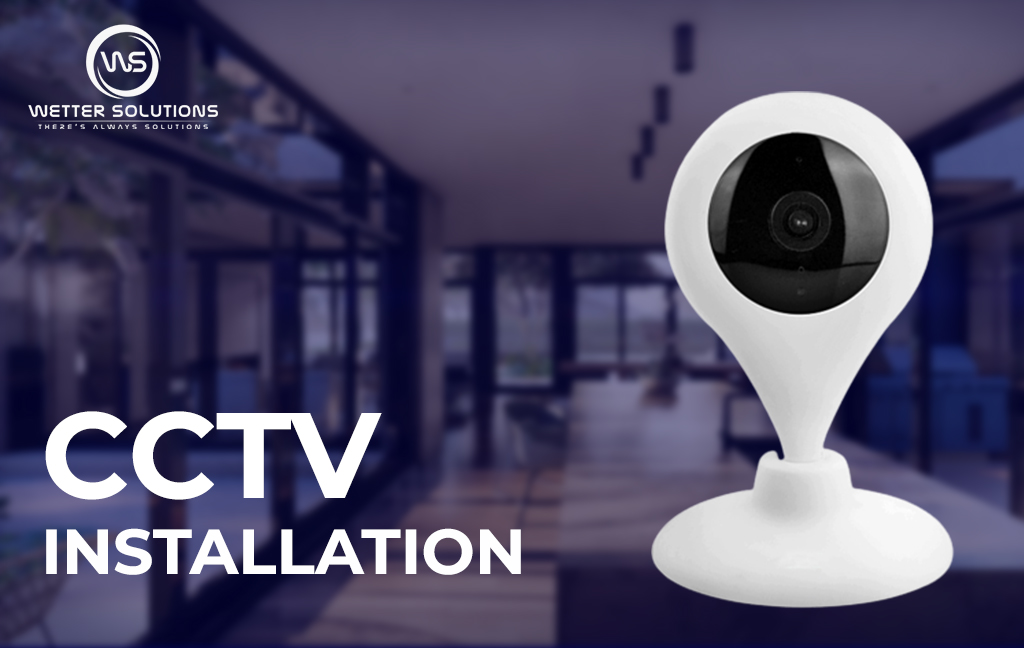 CCTV installation and public places
Install cameras in locations where people congregate in your house so you can keep an eye on them. Install surveillance cameras not just in the living room, kitchen, and dining room but also in any other area in the home where people have a tendency to gather. This is particularly helpful when you are away from home and want to keep a watch on your children, babysitters, or visitors who are staying in your house. Give more priority to any rooms that include wide windows that face the outside of your house, since they may also be utilized by prospective thieves to enter your property illegally.
Put a camera in a location close to where your pet sleeps so you can keep an eye on them. This is something that is really only important to consider if you have a pet that spends most of its time in a room that is separate from the main living spaces of your house. You are allowed to skip this step if you do not own a pet at this time. It's best not to install cameras in the bedroom or the bathroom.
Even though you might believe that the most effective way to protect your children is to be able to keep an eye on them while they are in their own rooms, there are certain rooms, such as bedrooms and bathrooms, in which people have a reasonable expectation of privacy, which security cameras would violate. Baby monitors and glass break sensors are two alternatives to security cameras that may be worth looking into if you are especially worried about the well-being of your children. Instead of installing a surveillance camera, you could think about purchasing a personal medical alert system for an elderly person if you are concerned about their health which consists of good options for CCTV installation. This will make it possible for the elderly person to get in touch with the emergency services immediately in the event that they are required.
How CCTV installation helps in Law and Justice
The recording of the crime scene by CCTV enables law enforcement officials to utilize the footage and publicly distribute photographs and videos of the individuals responsible for the crime. When it comes to making an arrest and taking dangerous offenders off the street, having a photo or a video record of the suspect may make a tremendous difference. The conclusion is as follows: We really hope that this article has helped shed some light on the significance of CCTV Security Systems for your company. It is important to keep in mind that you should avoid putting security cameras in any location that might compromise the personal space of your neighbors. If you secretly videotape your neighbors without obtaining their permission or knowledge, you might get into legal difficulties.
In this in-depth post, we examine how to install CCTV with the assistance of the CCTV installers at Tech cube as well as the owner, Vimal Mahes, who shares his insight and knowledge. This tutorial walks you through the whole of the CCTV installation procedure from start to finish, just as it would be for a professional CCTV technician.
How to upgrade to a CCTV installation
Although we provide an example of CCTV installation in a private residence, the ideas discussed here may just as readily be applied to the installation of CCTV in a commercial setting, such as in a retail store. We refer to these devices as DVRs (Digital Video Recorders) throughout this piece; however, they might equally be NVRs (Network Video Recorder). This article discusses the provision of equipment, such as CCTV cameras, DVRs, and NVRs, as well as the instruments necessary to carry out CCTV installation. In addition to discussing the installation of CCTV systems, this page also discusses the provision of such equipment. We ask that you get in touch with us.
Determine what your goals are, and make it very clear what it is that you want to accomplish. For instance, do you want the CCTV camera to watch over the main entrance to your house, a bigger region, or a specific section of the property?
Determine the placement of the camera as well as its height based on the goals you have set. After that, use a pencil to mark the locations of the three screw holes on the bracket that comes packaged with the camera. After that, drill three holes for the screws, place a raw plug in the hole, mount the bracket, and last, connect the camera.
Connection to the CCTV camera: the wire that we ran in the prior section is located close to the camera that you just put. Connect the Cat 5 or Cat 6 cable to the camera if you are using an IP camera. If you are using an analog HD camera, connect the video and power cables to the camera. The other end of the camera wire should then be connected to the DVR or NVR. After you have successfully linked one camera to the DVR, proceed to connect the other cameras in the same manner.
https://wettersolutions.com/wp-content/uploads/2022/09/CCTV-installation.jpg
648
1024
Vinny Wetter
http://wettersolutions.com/wp-content/uploads/2022/02/unnamed-file-1030x598.png
Vinny Wetter
2022-09-12 11:35:28
2022-09-12 11:35:30
CCTV Installation