PTZ camera auto-track system works with the PTZ camera. PTZ is the abbreviation form of the words pan, tilt, and zoom. The parts of these cameras are made from such types of instruments that make the camera extraordinary. These cameras can move left and right, tilt up and down, and zoom in and out when it is necessary. For all these features, these cameras can cover the full area. The PTZ camera is a great invention to make the home security camera system more powerful. This is one of the best security cameras for building to make people's lives safer. Compared to other IP cameras, PTZ cameras are far better and totally different on the basis of the movement of the cameras. As the PTZ camera can move around the whole area, placing only one camera is sufficient to make full coverage of a situation. But if people want to get a view of the whole area using IP cameras, they need more than one security camera set up. But, to increase the monitoring capacity of PTZ cameras, it can also use other stable cameras.
Types of PTZ camera
There are some varieties of PTZ cameras to make the PTZ camera auto-track system more and more powerful. Depending on the features of the PTZ cameras, they are-
· outdoor PTZ camera,
· wireless PTZ camera,
· IP PTZ camera,
· analog PTZ camera,
· PoE PTZ camera, and so on.
o Outdoor PTZ camera: Outdoor PTZ cameras are one kind of dome camera. It provides one of the best securities with the help of a strong pan tilt zoom function. More accuracy in capturing the full views of the area comes over as it can move at a 360-degree angle by itself. This type of CCTV security camera shows special functionality even to work in bad atmospheres. The sensor is used to make the outdoor PTZ camera remains clear in rainy and foggy weather even when it is snowing outside.
o Wireless PTZ camera: Wireless PTZ cameras keep the surveillance system active without having any wires. Normally, a camera connection requires network cabling or data cabling. As a wireless PTZ camera does not need any wire, it makes the system less cost-effective.
o IP PTZ camera: People nowadays prefer internet protocol PTZ camera between IP PTZ camera and traditional analog PTZ camera. The main reason to choose this is the wireless security camera installations.
o Analog PTZ camera: Analog PTZ cameras capture area footage to surveil the situation, then record it to a digital video recorder (DVR). Like other DVR security cameras, an analog PTZ camera also requires a DVR system to process, convert data, and store captured footage.o PoE PTZ camera: PoE stands for power over ethernet. PoE camera provides perfect functions with having only one wire and high-quality interfaces. It can send both data and power supply using a single cable. Though the PoE camera can perform without the internet, it limits the supported functionalities.
PTZ camera motion system
PTZ camera auto-tracking has some issues related to camera moving systems. PTZ camera receives data using RS-422 and RS-485. It needs twisted pair of wires where it helps to pass video signals. It also requires a coaxial cable or optical fiber to make fiber optic installation. Most of the time, the PTZ camera spin, tilt, drift, and moves on its own. This type of camera can reboot frequently. There will be problems rising because of a weak connection between the camera and router. The camera will record false motion clips if there is a bad connection. Moving the camera close to the router may improve the situation.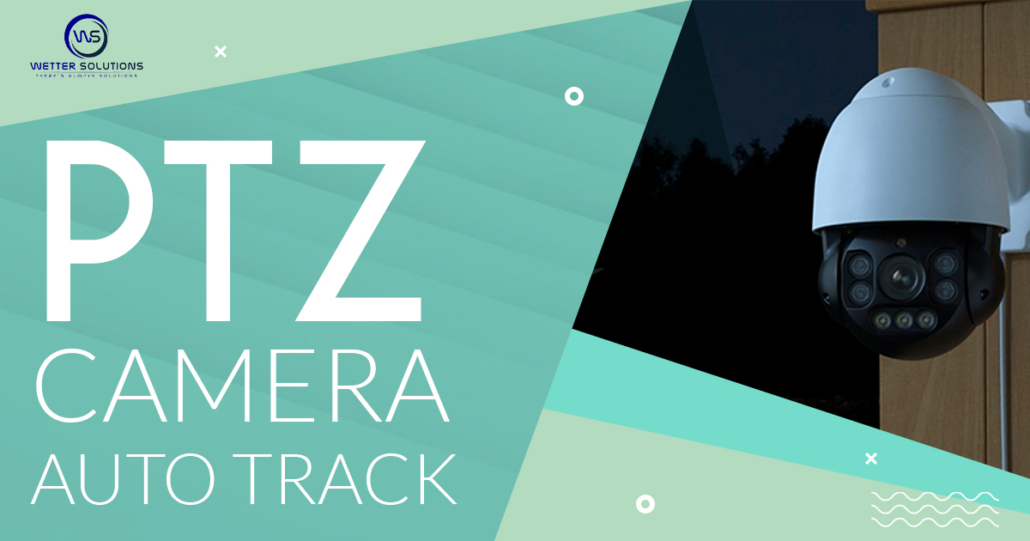 PTZ camera controlling system
There are some elements that control PTZ camera auto-tracking system. IR remote, USB joystick controller and specific software are the controllers to handle PTZ cameras.
People prefer IR remote control system to handle PTZ cameras because it is comparatively easy to use. But using an IR remote cannot control the camera if it is placed far away from the operator.
For joystick control, one can use ethernet cables and serial control cables. These are used to connect the joystick with cameras in multiple ways.
There are some software stands for controlling PTZ cameras. OBS, Wirecast, vMix, TriCaster, MimoLive, Livestream Studio, and so on are some of the software.
PTZ cameras are used for different purposes such as video conferencing, live video production, and so on. Besides these, it is the best security camera system for homes and educational institutions.
Places of using PTZ camera
There are so many fields that use PTZ auto-track cameras. Some of them are pointed out here:
o Broadcasting television.
o Home security service.
o Production of sports and other events.
o Capturing lectures.
o Learning distance.
o Conducting video conferences.
o Broadcasting sports news, and so on.
The benefit to use a PTZ camera
PTZ camera auto-track system has a positive impact on many sectors. Some of the benefits are given below:
· PTZ cameras can move anywhere needed. For moving, these cameras need zero pan-tilt and for the full 360-degree pan by 180-degree tilt.
· These Cameras can increase monitoring competence using stationary cameras.
· PTZ camera has the ability for motion-based auto-tracking. It can even capture fast-moving vehicles.
· Suspicious activities can occur anywhere at any time. PTZ camera has a remote-control option that can even monitor suspicious activities without going onsite.
· Zoom-in and zoom-out options make the PTZ cameras more powerful. You can observe any particular area or object from far away.
· Web browsers, mobile apps, or computer software can be used to zoom in and zoom out to see a tiny element in a greater view.
· There is no need to worry about the placement of these cameras. Because these cameras provide a flexible option to place it anywhere. Once you place it, you can monitor anything from different angles.
PTZ camera working range
Depending on the used cable, the PTZ camera auto-track system's working range is different. Configuring a PTZ camera at a distance of more than 1800 meters may not work properly. So, you can keep a maximum distance of up to 1800 meters to get a better-quality view. If RS-485 is used as cabling, then you should keep the distance between 3000 to 4000 ft. As a result, a better data transmission system will produce better-quality video.
Setting auto tracking on the PTZ camera
PTZ camera auto-track is an updated video surveillance technology. This one has promoted and more developed function of PTZ cameras. Only one auto-tracking camera can capture, detect, record, and make videos of moving objects or human beings. This type of camera can do all the process itself.
Setting auto-tracking on the PTZ camera is not hard. Just a few steps to follow:
1. First, you have to put the IP address of the camera in the browser.
2. Then, log in to the camera and select PTZ set up to make a fast auto-tracking camera setup.
3. After setting up, it is time to fix the camera position with the help of the on-screen control stick.
4. At the end of the camera setting, you need to set tracking time.
5. You can also increase or decrease camera speed by speed setup. Speed setting requires the ability of a PTZ camera to transverse from one preset to another one. Most of the time people use speeds up to 64 whereas using 40 is the best choice.
6. Then, check if motion detection is enabled or not.
7. As the camera height matters a lot, you should set up the auto-tracking system with a perfect height. Camera height can be kept up to 30 meters whereas 2.5 meters is the minimum requirement.
8. At last, you can use the zoom-in or zoom-out option though this is an optional term. You can also select the type of object such as a human, vehicle, etc.
This is all needed to set up auto-tracking on PTZ cameras though this is not the full process. You may get help from a security camera service provider to select the best PTZ camera for installing security cameras if you want.
Conclusion
To conclude, the PTZ auto-track system is the updated and improved part of the PTZ camera. It has a special weather-resistant property that lasts the camera even up to 10 years. But sometimes it is needed to repair the parts of the camera to increase efficiency. Some people don't recommend the PTZ camera for its shorter life span and high spending cost. Though it has some wicked features, still there are so many useful features to push people to use this CCTV camera system. View from a large field, auto-tracking based on motion, and auto-scan based on time are among the effective features. Optical zoom-in, zoom-out options, and remote-controlled camera feature also enhanced the demand for using these cameras. Guard stations nowadays start to use this device to enrich the guard system properly. Large outdoor areas such as supermarkets, religious areas, museums, and construction sites are now in touch with it.
https://wettersolutions.com/wp-content/uploads/2022/11/PTZ-camera-auto-track-One.jpg
630
1200
Vinny Wetter
http://wettersolutions.com/wp-content/uploads/2022/02/unnamed-file-1030x598.png
Vinny Wetter
2022-11-20 09:47:02
2022-11-20 09:47:03
PTZ camera auto track