A camera that has the ability to surveil in low light is known as a 24/7 color night vision camera. CCTV installation will not keep criminals away from your belongings. But it can give you an idea about the one who stole your property. Even if anyone tries to attempt to steal anything CCTV security camera can detect it. A color night vision camera will provide a proper solution to get distinct footage of the suspected areas at night. Some home security camera system is wireless whereas some need wire to connect. Besides these, the security camera setup is different as there are a bunch of types of security cameras.
You can use the night vision cameras on the front side, backside, or door side of your home. This camera can also cover roadsides, stairways of homes, and so on. Before CCTV camera installation you have to select a perfect place to finish setting up. Because choosing a proper place to install a CCTV camera system can surveil a wide range of areas. And, covering large areas can reduce the importance of using more than one camera.
Places where to install security cameras
Like other cameras, it should have a fitting place to install security cameras like a 24/7 color night vision camera. There are some places for home or business where you can place the color night vision camera. The following points may help you for installing security cameras in the right place.
Interior and Exterior side: For setting up a security camera for the building, you can put the camera in front of a door. Door act as the only way of entrance and exit side of a home or company. CCTV security cameras will keep a record of anyone who comes in and goes out. Details information of the people caught on camera may help to identify the misdoing. Color night vision camera provides full details including the color of the outfit of a criminal. Sometimes criminals use masks to cover their faces. So it is prudent to keep the camera closer to the entrance. To do that camera will be capable of holding the criminal's eye on its lens.
Cash counter: Placing a security camera in front of a cash register will definitely discourage customers from stealing products. Employees of any company will be aware of not misbehaving with customers. If any deficiency occurs during counting in the cash register, the camera will easily identify it. But, just for a remember that place the camera under seven feet.
Outside: It is true that the property of any company or business will not be kept outside of the building. But, criminals attempt to attack from outside of the building. So, it is necessary to take possible steps before snitching or being robbed. Because robbers try to steal vehicles from the parking lots. Even the employees sometimes hide products when any shipment comes from outside. Night vision security camera installations are the proper solution for solving all these problems.
Solitary areas: From the view of victims, crime occurs mostly in lonely places. Employees of any company sometimes make friendly relations with the guilty people. Sometimes the workers deal with business-related goods outside of the company. Professional outdoor security cameras provide the proper solution for keeping the place out of crime.
Consideration before setting up security cameras
Before setting up residential security cameras or other 24/7 night vision security cameras, keep a few things in mind. Some of these are listed below. Hope these points are easily understandable and beneficial to you.
Camera height: Place the camera in such a place that people cannot reach it easily. But do not keep the camera below seven feet. So try to keep the height in between these scales.
Camera angle: Another essential thing in terms of setting up a security camera is the right position of placing it. The proper angle of the camera can see the full view of an object. If place the camera under or over the window and door, you may not recognize the burglar. You will most probably see only his head or forehead.
Consideration of the internet: If you use cheap wireless security cameras you may not need network cabling or data cabling. But you must need a flexible internet connection to get the best service from a security camera. Without an internet connection, wireless security cameras for a home will not work anyhow.
Ways to connect night vision camera
You can connect 24/7 color night vision cameras both with wire and without wire. This paragraph will let you infer which type of connection you need to complete a security camera system for your home. Just look over the following points to get proper ideas.
Connection with wire: Wired connection needs wire for network rack installation. The data/ voice cabling wire connects the internet system to the power source.
Connection without wire: Wireless cameras need no cable to connect to the internet. It communicates using wifi system. A wireless camera doesn't mean that the camera is totally wire-free. Because there is a cable need to turn on the power source. But it is possible to make a completely wire-free setup. For that, you have to use batteries to make the power connection active. Wireless night vision security cameras use a cloud server to store captured images or videos. Cloud server allows access from anywhere. Besides cloud servers, there are some local storage options such as micro SD cards and other memory cards. A wireless connection simply provides an easy installation process where there is no need for an extra camera installer. This is one of the main reasons why the use of wireless cameras is increasing day by day. If the power connection remains active then this camera can record 24/7. You can observe the footage using a smartphone or any other device.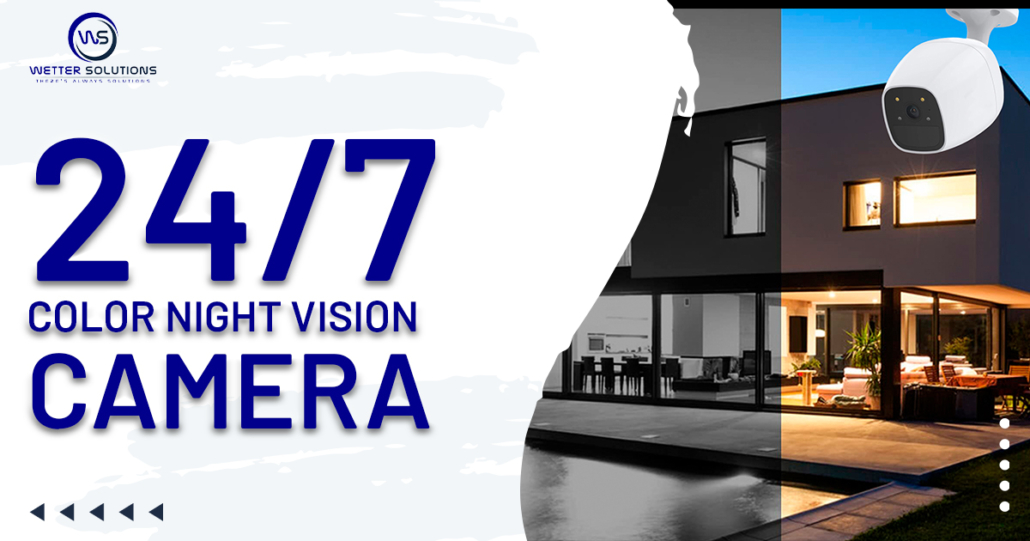 Advantages of using color night vision camera
It is beneficial to install a 24/7 night vision security camera to protect people as well as their property. Some of the facilities using night vision cameras are given below.
They provide more clear footage including high resolution. Compare to other CCTV cameras they produce more distinct photos and video surveillance.
Footage from these cameras is more flexible and reliable as they generate colorful pictures. For the colors, surveillance footage includes more detailed information.
As they are one type of DVR security camera, they use a digital video recorder to store data. Wireless night vision camera uses a cloud-based storage system. Anyone from anywhere can get access to the cloud if permissible. So the storage system is more flexible as you can choose any system to store data. You can even use a micro SD card to save surveillance information.
24/7 night vision can work frequently. It can produce distinct video surveillance.
As some wireless cameras need no structured cabling to transmit data, it would not make any trouble for wires.
The installation process of wireless night vision cameras is not complicated. Sometimes, it needs apps to install and run the camera.
Though the importance of home security camera installation is uncountable, there are also some cons. The color night vision cameras provide colorful footage. But you should not place the camera far away from the place you want to surveil. Because color night vision cannot work properly from a distanced place. You should keep the distance between 100 feet.
The system considered for handling night vision camera
You can install the 24/7 color night vision camera both outdoors and indoors. Both the system of CCTV cameras for homes or any other places are definitely beneficial.
Night vision cameras including outdoor systems should have waterproof and dustproof options. They also need to be weather resistant as extreme hot or cold weather can destroy any part of the cameras.
For an indoor night vision camera setup, there is no need to consider a waterproof or dustproof system. You can hide the cameras under the mirror, glass, or any other place you want to keep them. So both the term indoor and outdoor are flexible to use. You just pick up any of them that you want.
Conclusion
In the end, hope you have found this content helpful for you. Hope these pieces of information will help you to choose the best camera for you. You may install multiple cameras for your business or home. But, you should have an exact idea about the coverage capacity of a camera. Sometimes, there will be no necessity to install more than a one-night vision camera. Because some cameras can cover a large area with distinct pictures. Even they may not need fiber optic installation. They can transfer data through wifi instead of data cabling. For power sources, you can use batteries. Relevant video surveillance can be seen even on smartphones after installing the apps. So, a night vision camera is undoubtedly a smart way to surveil your surroundings for the whole day and night.
https://wettersolutions.com/wp-content/uploads/2022/11/247-Color-Night-Vision-camera-One.jpg
630
1200
Vinny Wetter
http://wettersolutions.com/wp-content/uploads/2022/02/unnamed-file-1030x598.png
Vinny Wetter
2022-12-05 07:37:08
2022-12-05 07:37:08
24/7 Color Night Vision Camera