Audio Video Installation Near Orlando
Audio video installation near Orlando is essential for entertainment and communication in homes and businesses. Because of the growing need for sound and pictures of the highest possible quality, audio-video installation services have developed into an essential component of the business. A well-designed audio-video system can improve the quality of your experience and make your life easier in a variety of contexts, including whether you watch movies, listen to music, or participate in video conferences. However, because there are so many different options available on the market, selecting the most appropriate audio-video installation service can be a difficult undertaking to undertake. In this blog, we are going to investigate the top audio-video installation services in the Orlando area, as well as the factors that should be taken into consideration when selecting one. With the help of this detailed guide, you will be able to ensure that a trained technician will install your audio and video system, which will then give you the level of quality and functionality that you require.
What exactly does "Audio Video Installation" refer to?
The audio video installation is the process of setting up and configuring audio and video equipment so that the sound and pictures are of high quality. Installing speakers, amplifiers, TVs, projectors, and other related devices in homes and businesses is part of this process. Audio video installation services offer solutions that are tailored to the needs of both residential and commercial clients. With audio video installation near Orlando, people can get more out of their entertainment and talk to each other better.
A well-designed audio video system can make life easier and more fun, whether you want to watch movies, listen to music, or hold video conferences. With a professional audio video installation, the sound quality will be better, with the sound that is clear, balanced, and not distorted or muffled. The picture quality will also be better, with images that are no longer blurry or pixelated and are clear and sharp. A professional installation will also make your audio/video system more useful by making it easy to control with a remote, your voice, or a mobile app.
If you are looking for an audio video installation near Orlando, it is important to choose a service with experience and knowledge in the field. Make sure to choose a service that uses high-quality equipment from trusted brands, has a helpful customer service team, and offers a fair price. With the right audio-video installation, you can enjoy better entertainment and better ways to talk for many years.
Why is the Installation of Audio and Video So Important?
The audio video installation is essential for everyone who wants to improve the quality of their entertainment or meet their communication requirements. Whether you want to hold video conferences, view movies, or listen to music, having a high-quality audio and video system will make your life simpler and more fun in all of these endeavours. There are many benefits to installing audio and video, some of which are listed below:
Improved sound quality: The sound quality of your system will be significantly improved by having a professional audio video installation performed on it. This will ensure that your sound system produces a sound that is of high quality which is both clear and balanced. You won't have to be concerned about the sound being distorted or the song being muddled.
Better picture quality: A high-quality picture that is clear and sharp will be provided to you as another benefit of having a professional install your system. You won't have to worry about dealing with pixelated or unclear visuals, which is especially convenient for when you're viewing movies or playing video games.
Functionality enhancement: If you have a professional install your audio-video system, you will have an easier time controlling it. The volume, the channels, and the ability to switch between multiple inputs can all be controlled through the use of a remote control, voice control, or a mobile application.
The atmosphere of your house or place of business will be improved as a result of installing an audio-video system that has been thoughtfully developed. You will have the opportunity to enjoy a more immersive kind of entertainment while also creating an inviting environment for your guests.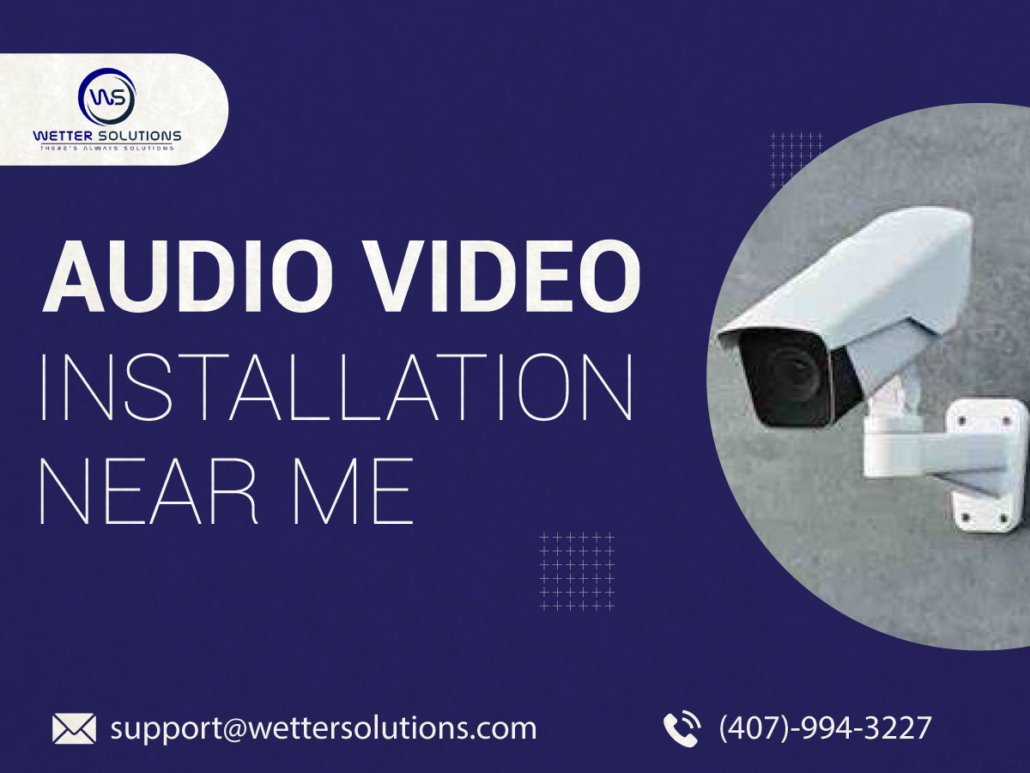 When Choosing an Audio Video Installation Service, There Are Several Things to Keep in Mind
Choosing the right audio video installation service can be a challenging task, especially with so many options available. When selecting an audio video installation service near Orlando, the following are some of the considerations you want to give attention to:
Experience and skill: When selecting an installation service, be sure to look for one that has both experience and expertise in the installation of audio and video systems. Find a firm that can meet your installation requirements by using a staff of trained and certified specialists in the relevant field.
Reputation: Before hiring an audio video installation firm, make sure to research their reputation by reading reviews posted online and contacting references. You should go with a company that has a demonstrated history of providing installations of high quality while maintaining high levels of client satisfaction.
Equipment: Be sure to hire an installation service that works with reputable manufacturers who produce high-quality products. The equipment needs to be dependable, long-lasting, and compatible with the audio and visual system that you already have.
Customer service: Check to see if the company providing the audio-video installation also has a helpful customer care department. You want to work with a business that can respond to any inquiries or concerns you might have during the installation process and help you resolve any problems that may occur.
Cost: Analyze the prices offered by several audio video installation services and pick the one that provides the best value for your money after doing so. However, you shouldn't select a service based only on the price since doing so can cause you to sacrifice the quality and functioning of the product.
The most dependable audio video installation service in the Orlando area
There are possibly many different audio video installation solutions accessible near Orlando.
Nonetheless, I will share with you the one I feel to be the most effective. I wonder what it may possibly be.
Wetter solutions provide audio and video installation services in the Orlando area. The company specializes in Tampa camera installation. They are especially adept in the installation of surveillance cameras, but they also offer installation services for audio and video equipment. This company's website provides information about the numerous audio and video installations they provide, including home theatre installation, whole house audio installation, and commercial audio and video installation.
The company takes great pride in the fact that it employs a team of skilled specialists that have honed their expertise in the industry over the course of many years. They ensure that their clients will receive the very best care by only working with tools and materials of the highest possible quality at all times. This gives their clients the assurance that they will receive the very best service. On their website, they provide a full overview of the services they provide, which include project planning and design, equipment purchase, installation and commissioning, and ongoing support and maintenance.
Customers can visit the website of the firm to make a request for a quote that is customized to match their unique requirements. In addition, the company offers free consultations to customers to aid them in determining the product or service that most closely satisfies their requirements. Additionally, the company offers a large array of services for commercial clients, including audio and video systems for schools, churches, and restaurants, among other commercial locations.
Conclusion
A competent audio video installation near Orlando can enhance your entertainment and communication. There are several audio video installation providers in the city, making it difficult to choose the best one. However, with the correct considerations, you can choose a solution that meets your individual requirements. From home theatres to smart homes, audio video installation may provide high-quality audio and video, increase the usefulness, and improve the atmosphere of your area.
Expertise and experience are crucial considerations when selecting an audio-visual installation provider. Look for a company with a staff of skilled and certified specialists capable of handling your installation requirements. Another crucial consideration is the service's reputation, which may be discovered by reading online reviews and requesting references.
Wetter Solutions and Smart Home Technology are two of the best audio video installation companies in the Orlando area. These businesses provide high-quality equipment from reputable manufacturers, responsive customer support, and affordable costs. Wetter Solutions specializes in the installation of Orlando CCTV systems, thereby enhancing the security of your house or company.
Investing in a skilled audio-video installation near Orlando can significantly improve your entertainment and communication. Take into consideration the aforementioned aspects, and select a service that will provide you with both quality and functionality for your house or place of business.
https://wettersolutions.com/wp-content/uploads/2023/02/audio-video-installation-near-me-2-1.jpg
900
1200
Vinny Wetter
http://wettersolutions.com/wp-content/uploads/2022/02/unnamed-file-1030x598.png
Vinny Wetter
2023-02-27 14:45:27
2023-02-27 14:45:28
Audio Video Installation Near Orlando