\
Business owners or company owners need commercial security solutions to ensure the safety of their property. The commercial security system requires security to protect a business or a piece of property.
Commercial security provides solutions to large complexes, institutions, organizations, or other establishments. Restaurants, cafes, hotels, workplaces, etc are such kinds of establishments that need commercial security solutions. When it is time to operate a company, securing your employees, your property, and your assets should be of concern. This is especially important in light of the fact that commercial properties and small companies are robbed at gunpoint. According to the crime data compiled by the FBI in 2019, they record some issues. Almost 37.2 percent of all burglaries took place in non-residential locations such as stores and workplaces. For solving all these issues, commercial security system brings updated and secured solutions. These commercial security solutions ensure both security and peace of any company owner's mind. After all, commercial security solutions differ from other home security camera systems.
Defining commercial security system
Commercial security solution provides alarm systems and CCTV surveillance systems that enable real-time monitoring and surveillance for business security systems. This system deters burglars, thieves, and criminals by keeping them at distance and keeping them under constant watch. This system includes a variety of functional access control systems, an audio tracking system, safety from fire and life safety technology, and so on. All of these are examples of additional technologies and equipment of smart technologies. You can use commercial security solutions also as residential security cameras. This commercial CCTV camera system
Reasons to use security systems in commercial areas
There are some commercial security solutions for advanced home security systems. Random home security systems are comparable to commercial security systems; nonetheless, there are considerable variances. For instance, commercial security systems are often developed for larger properties and have an assortment of cameras. Additionally, a single person or a small group often monitors a residential security system. A business security control system, on the other hand, could have many individuals monitoring the surveillance footage.
Multiple access points can exist in a commercial structure, heightening security problems. Without an advanced alarm and surveillance system, it is impossible to monitor areas such as parking lots and multiple entryways of a commercial structure. For example, a door card reader system can be built to prevent unwelcome individuals from entering the building. Depending on the demands of the business, commercial-grade door access systems, such as the card reading system, can be configured. A technician can also instruct your personnel on how to program, edit, and maintain this system.
Access control provided by commercial security systems is a complete solution for regulating who can enter a business. This system is also capable of tracking staff attendance. Furthermore, some commercial security systems provide customized visitor management options to facilitate the streamlining of visitor-related activities.
Every commercial building is required to have a functional fire alarm system and carbon monoxide and smoke detectors in the ductwork. In the event of a fire, duct smoke detectors will automatically activate the fire control system. These systems are meant to provide an immediate response in the event of a fire in a structure.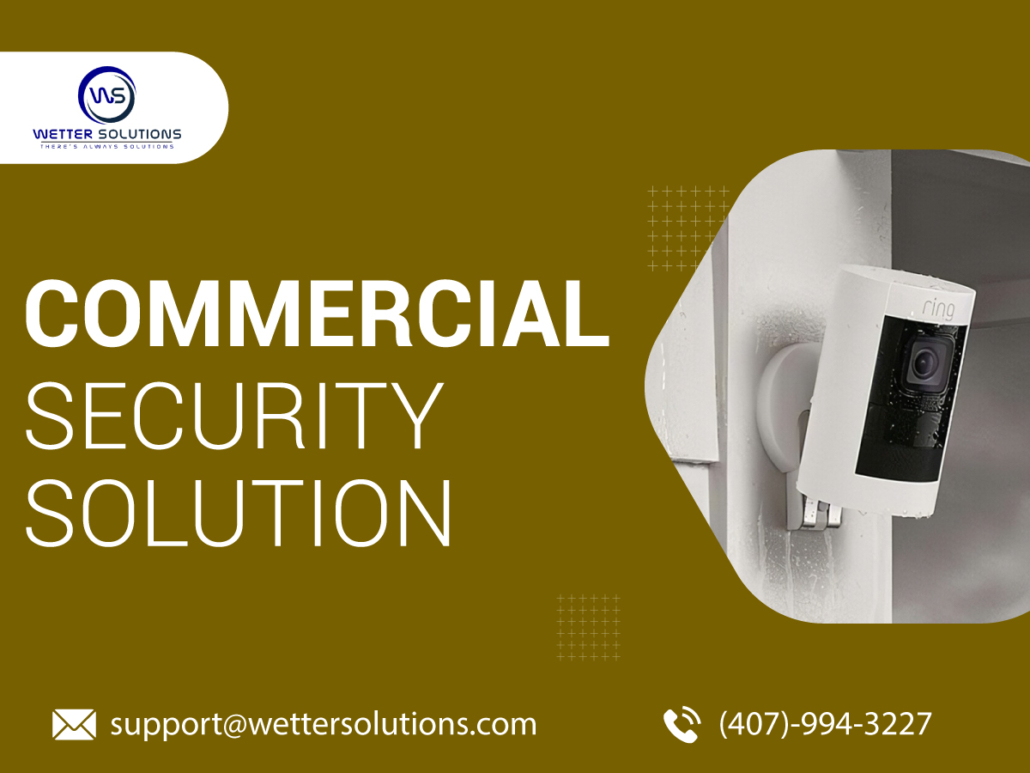 Difference between commercial security systems and another security system
If you look forward to knowing the difference between commercial security solutions with other security solutions, here it is. Commercial building security systems consist of a great deal of high-tech equipment, including intrusion detection technologies. Many commercial buildings, for instance, feature burglar-proof window frames and utilize high-tech locks for drawers and storage compartments containing important data.
With interactive commercial-grade security systems, it is simpler to gain business insights and control employee access since it reduces service interruptions and operational inefficiencies and protects business assets from tampering or vandalism. These security solutions allow you to configure alerts to monitor all business actions from numerous places. You can receive alerts on your phone if someone disarms the security system or enters a restricted area of the business.
In addition, commercial security can utilize a specific software to bolster the security system. For instance, a provider of retail security can employ video analytics software. Video surveillance software would provide instantaneous visibility into any important corporate operations. It can also assist you to control energy bills for your organization. For instance, the program can provide automatic notifications from sensors that detect motion or heat. Installing security cameras with commercial security systems has added a new dimension to the security world.
Facts anyone should consider before installing a commercial security system
Whenever anyone attempts to implement a commercial security system in public places such as parking garages, restaurants, office spaces, or banquet halls, there are some laws. One has to consider regional, state, and federal legislation before installing a commercial security system. Most regulations allow businesses to install surveillance cameras in authorized locations to protect their property and operations, however audio recording through surveillance systems may be restricted.
Residential security systems can record audio and video footage of the region. If a firm wants to record audio in non-private areas of a commercial structure, it must obtain authorization from all parties involved. Moreover, in the majority of jurisdictions, it is unlawful to record audio using covert cameras positioned within a business.
To avoid the effort of learning about laws and locating the correct equipment for your business, you can engage a reputable commercial security system provider who is aware of legislation pertaining to such systems and has access to the most effective equipment required to secure your firm's assets.
Kinds of commercial security system
Before getting commercial security solutions you need to know about the kinds of the commercial security system. The following are the most prevalent types of business security systems on the market:
Burglar alarms: Burglar alarms, also known as security or intruder alarms, are designed to alert you in the event of unauthorized entrance into a structure, a secure location within a structure, or a secure installation such as a safe.
The most fundamental systems are designed to monitor a property for security breaches, such as the unauthorized opening of a door or the shattering of glass.
When the system detects motion, a loud siren frequently accompanied by flashing lights is activated. This warns everyone in the area and attracts attention to the criminal if they attempt to circumvent the security system.
All commercial establishments should invest in burglar alarms because they dissuade potential attackers and reduce the likelihood of becoming a target. They are also frequently required by insurance providers.
CCTV/surveillance cameras: CCTV (Closed Circuit Television) cameras are one of the most effective security solutions for securing the interior and exterior of commercial properties.
They give both live and recorded video footage of different regions of your property, allowing you to keep an eye on all high-risk areas simultaneously. You can be notified as soon as someone steps foot on your property so that you can take the appropriate precautions.
If an intruder is able to get access, the cameras will capture their movement and appearance, which will assist the authorities in apprehending the culprit and recovering the stolen property.
CCTV systems typically consist of a number of cameras wired or wirelessly connected to a central digital video recorder (DVR) or computer.
Systematized access control: Access control systems are among the most prevalent commercial security systems kinds. Their primary function is to manage and regulate who enters and exits a building or area within a building.
Using passcodes, key fobs, access cards, biometrics, or apps, these security systems and their supporting software enable owners of commercial properties to restrict access to the building or to certain sections of the facility.
Controlling access within a facility is a wonderful method to keep track of transgressions and makes your property less susceptible to break-ins, burglaries, and unwelcome guests.
Access control systems can record information such as the time a person entered the facility, which is crucial for keeping track of all employees and other system users.
Conclusion
Commercial security solutions are beneficial in all kinds of business sectors. One of the most significant investments that a company can make is in the establishment of a dependable corporate security system. This is one of the most important expenditures that a company can make. Installing the appropriate physical security system at your commercial property, regardless of the size of your company or the size of your commercial property, will secure not only you and your facilities but also your customers. On the other hand, there are a large number of different kinds of security systems available for you to pick from. In addition, the requirements that are specific to your building make it necessary to install a security system that is different from those used in other buildings.
From this article, you will be benefited from the many advantages of putting in place security systems for businesses. Besides this, this content will clarify just what it is that these systems consist of. If you are here after reading all the content, you must have an idea of the many types of security systems that are available. Above all, hope you will enjoy this writing!
https://wettersolutions.com/wp-content/uploads/2023/02/commercial-security-solutions-3.jpg
900
1200
Vinny Wetter
http://wettersolutions.com/wp-content/uploads/2022/02/unnamed-file-1030x598.png
Vinny Wetter
2023-02-27 13:28:14
2023-02-27 13:28:15
Commercial security solutions